As Josh Arbury blogs, and the Herald reports, the order for electric trains is under threat.
A basic summary of the situation is that ARTA had an orginal budget of $512m, broken down in the table below:

Now, however, the Government has capped the electrification spend for rolling stock at $500m and at the same time transport planners have identified extra infrastructure spending necessary to remove bottlenecks and maintain 10 minute frequencies. Their recommended approach is shown in this table: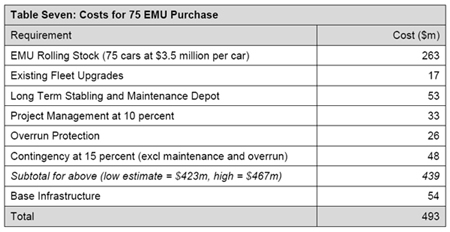 The upshot is that transport officials from ARTA, Veolia, Ontrack and the Government are proposing to reallocate $147m of a $410m budget for electric trains to projects unrelated to electrification, increased project management and project contingency. Yes that $54m (which includes lengthening platforms, signalling upgrades etc)  is probably necessary, but I would argue that it should come from the DART budget or the Kiwirail electrification budget, before the rolling stock budget is slashed.
Following through with this recommendation would see a 40% reduction in electric train seated capacity and sub optimal train schedules to cater for the continued use of old trains. The cheaper operating costs of electric trains are also ignored in the study. A comparison is here: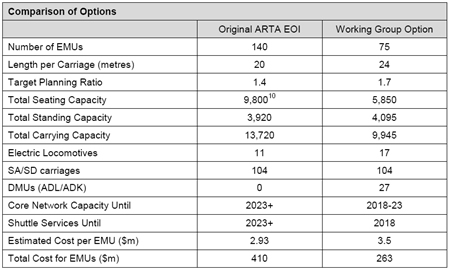 In addition the report also identifies the risk that there won't be enough electric locomotives to continue utilising the electrified main trunk line between Hamilton and Palmerston North – diesel locomotives will be used instead.
The glimmer of hope appears to be Transport Minister Steven Joyce, reportedly unhappy with the recommendation.  Perhaps he recognises the need to give commuters the choice of using fast, efficient, non-polluting electric trains.  There is also credible evidence that oil fields are no longer producing as much oil as they were, or maybe he recognises the need to put forward practical measures to meet an emission reduction target of between 10 and 20%.
Whatever the reason, please Mr Joyce don't let them do this.