What a day yesterday!  Not even the weather could dampen the crowd's enthusiasm. Due to snow branches on the line, the carriages for the steam train were late, but Isaac Broome saved the day with a two car set for the dignitaries and CBTers. A big crowd greeted the train as it rolled in to Onehunga station on time yesterday at 10:30, 18th September 2010.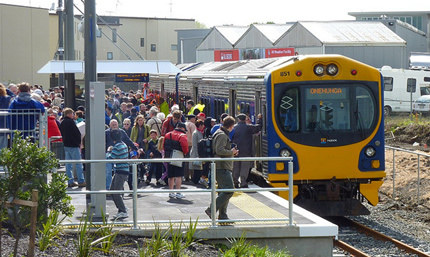 While the speeches were in progress, steam loco JA 1275 from Mainline steam pulled into the station. I suspect that's what the crowds were really waiting for!  At the tail end of the train was a diesel locomotive, which as pointed out on the forum is only 14 years younger than the steam train. (JA 1275 entered service in July 1952, DC 4536 entered service as DA 1505 in September 1966!)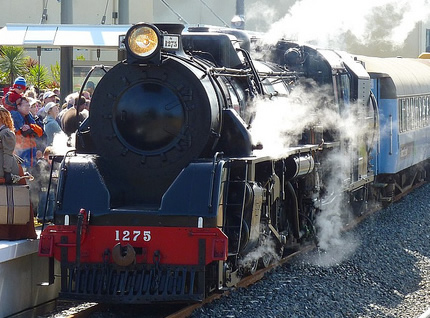 ARC Chair Mike Lee gave a speech that summarised the long slog to get Onehunga reopened. In it he thanked the efforts of the Campaign for Better Transport, and singled out Garth Houltham as the campaign manager for our petition that achieved 8,000 signatures in the summer of 2005 / 2006.  Mike hammered home the popularity of rail and drew applause every time he mentioned rail to the airport.

Hon. Steven Joyce also addressed the crowd with the somewhat predictable "need to invest in all modes" speech. Didn't explain why there is such a disproportionate crown investment in roading over public transport, though this was not a day for such nit-pickery.  I think he had to be secretly impressed by the turn out and the sheer cost effectiveness of reopening the branch line.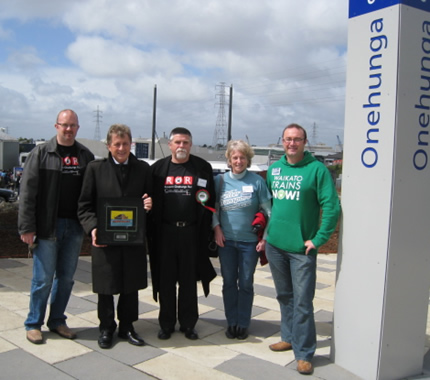 We'll see how the patronage goes this week!