Waterfront Auckland have done a media release on the arrival of the two trams that will utilise the new Viaduct circuit.  It is great to see this is actually happening, all from presentation that the CBT did in conjunction with Motat back in 2008.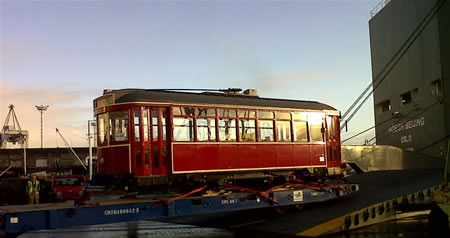 The return of trams to Auckland streets came a step closer today when two historic tramcars rolled off a ship from Melbourne at Jellicoe Wharf early this morning.

 Trams last graced the streets of Auckland in 1956. Waterfront Auckland has leased two 1920's trams – a W2 Class Tram and X-1 Class Tram – to run on the tracks now being installed in a 1.5km loop within the Wynyard Quarter.

Waterfront Auckland Chief Executive John Dalzell says both trams have been restored at the Bendigo Tramway Museum in Victoria, Australia.

"The trams look great," he said. "They have both been painted in the original 1950's 'carnation red', and will soon be emblazoned with "Waterfront Auckland Trams" livery."

 The 17 tonne, 48 feet long W2 tram has a seating capacity of 52 and a 2-person tram (driver and conductor). The 9 tonne, 31 feet long X-1 tram has a seating capacity of 32 and requires one person – the driver.

 The trams will remain securely within the Ports of Auckland custom controlled area until their purpose built home – tramcar housing currently under construction within Wynyard Quarter – is completed. From early August, following an operational testing period, the trams will run in a 15-minute clockwise circuit along Jellicoe, Halsey, Gaunt and Daldy Streets.