The new Outer Link service started today, so I dragged the family along to the bus stop at Westmere and we took it to St Lukes shopping mall.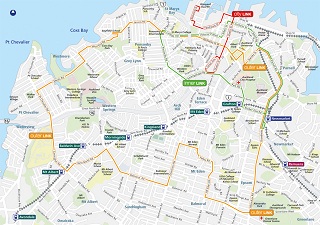 We got off to a nervous start. The real-time information board at Westmere shops advised that the next "OUT" was "due", then it flicked over to 9 minutes and then 19. At this point having waited for 15 minutes we phoned Maxx to find out when it was actually going to be turning up. Naturally as soon as we did this the bus turned up.
Although advertised as every 15 minutes it is actually a timetabled service.  "Timing stops" for our sector include Westmere Shops, Carrington and St Lukes.  After a short wait we departed at 11:24.  So teething problem #1 is that the times appearing on the real-time information board at Westmere didn't even match the timetable, let alone the actual time the bus turned up.
We trundled along in style down Meola Rd. The bright orange Outer Link buses are brand new and are quiet and smooth. They have handy baggage storage, a marked push chair parking area and disabled seating just down from the front door. The seats are moulded to a fit standard size person. This is particularly noticable around your middle if you are a little bigger than the standard size person, and it will be interesting to see how comfortable the seats are for two bigger sized people sitting next to each other.  There are plenty of yellow grab handles for when full standing loads occur.
Like the Inner Link there is an announcement for every bus stop (Miranda Harcourt maybe? We were half expecting an announcement for Donaldson's Dairy.)  Also announced at certain stops is the message that for time table reasons the "bus may wait a the next stop for a few minutes". This happened at Carrington Rd, where we waited for 4 minutes, which was a little annoying. It left me wondering if there was a separate timetable for weekday and weekend services, since you would expect the Outer Link to run a bit faster than normal on weekends.  In any case we arrived right outside St Lukes about 25 minutes after departing Westmere, slightly longer than anticipated, but an enjoyable ride nonetheless.
For the return trip home the first objective was to locate the bus stop for the clockwise service. It is poorly signposted, but it is actually on the bus lane on the other side of St Lukes Rd, near the AA and Washworld. Better signage from Westfield St Lukes is really required here. There is also no bus shelter.  The other major issue is the length of time that it takes to cross St Lukes Rd on foot (about 4 minutes after pressing the button). While we were waiting the Outer Link turned up, so I jaywalked ahead so I could tag everyone on and get the bus to wait for everyone (stressing the driver as he was behind time a bit!).  Also the pedestrian crossing phasing really needs to be synchronised here so there isn't a long wait in the middle of St Lukes Rd, otherwise jaywalking is going to be a regular occurence as people attempt to get the bus and avoid a 15 minute wait.  St Lukes is also a timing stop so there is a chance that the bus will wait, but then again it won't if it is behind time.
The trip home was pretty quick because we were behind time and we sailed through the timing stop at Carrington. Turning right into Meola from Pt Chev the onboard announcements got a bit screwed up. First it was announced that the next stop was Motat 2 (a new stop), then as we passed the Kiwi Rd stop Westmere was announced, then as we came to the roundabout on Garnet Rd, Kiwi Rd was announced.  Meola Rd is also very narrow – at one point we had to stop behind a parked car to let the anti-clockwise Outer Link bus through. Some kind of parking restriction is really going to be required here soon, which is problematic for the big numbers of people that use the sports grounds on weeknights and weekends.
All in all though it was a good start for the service – I think it will become very popular as there are some really key "trip attractors" on this circuit such as Unitec and St Lukes shopping centre.   Fare-wise I was fortunate in that it is a single stage from Westmere to St Lukes which makes it $4.50 for the family paying by Hop (I think, I need to check). If we had to pay two stages then I doubt we'd use the service for weekend shopping – which makes me think we need a better ticketing product than the $25 family pass currently on offer through the Maxx website.
There is supposed to be a review in six months of all new central services, but I hope this doesn't preclude the ability to put on more buses sooner than that to cater for demand.