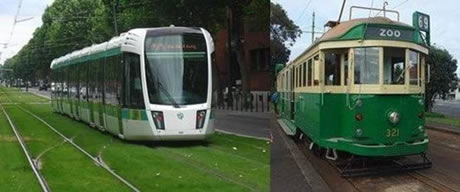 We are campaigning for trams and light rail to be considered as part of the new $2bn redevelopment of the old Tank Farm area on Auckland's waterfront.
Working with the Museum of Transport and Technology, who have a number of working heritage trams at their popular Western Springs site, we presented to Auckland City Council, Auckland Regional Council and met with officials from the Sea+City project team and also Booz Allen, who are undertaking a review of the Te Wero bridge. Prior to these meetings we also met with Heart Of The City representatives to gain an understanding of their vision for the waterfront.
We believe that clean and quiet electric trams would add another dimension to the CBD, and remove the need for some inner city loop buses. Using trams currently available from Melbourne, each tram would be able to carry more than 2½  bus loads of passengers. We believe that the trams would also become a tourist attraction for Auckland.
Throughout the world trams are recognised as reliable forms of transport, and it is our hope that an Auckland Waterfront and CBD tram would be the seed for a more extensive tram system developing throughout the city.
A copy of our presentation is available here.
Latest News
[catlist id=73 date=yes]