The Waikato Times reports that David Bennett is representing the views of himself (and presumably the party he represents), rather than 85% of his electorate.
A proposed commuter rail service to Auckland has run into a political storm with National MP David Bennett branding it a waste of time.

Hamilton City Council transport chairman Dave Macpherson has responded by saying Mr Bennett is out of touch.

The commuter service hangs in the balance despite a top-level meeting between Hamilton politicians and KiwiRail yesterday.

KiwiRail is to come back to the city council in about two weeks with a final price for a trial service for the council to either accept or reject.

But Mr Bennett today cast further doubt on the plan by saying the train wouldn't be able to get into the Britomart station.

A peer review commissioned by Environment Waikato of the original feasibility report on the service backs Mr Bennett's claims by talking of an "impasse" on fitting into Auckland's peak morning timetable at Britomart.

Mr Bennett also said the service would use old diesel railcars environmentally worse than cars, and the region shouldn't be asking for more Government money when it had a huge amount of money put into finishing the Waikato Expressway within 10 years… [more]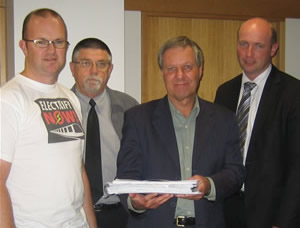 This is extremely disappointing from Mr Bennett.  He supported our Electrify Now campaign a few years back (that's him on the right), but not spending on rail in his own electorate.  Scheduling into Britomart can be overcome (possibly by changing trains at the new Newmarket station) and the Silver Fern rail cars are being refurbished to a very high standard.  They will be the best railcars in the country.