At the Auckland City Council's Transport Committee meeting last Thursday, Geoff Houtman from ourhood.co.nz pitched the idea for a tram extension (with Rhys Darby and Antony Starr in support).  This builds on the CBT / Motat initiative, and the time is probably right to start thinking more about where to extend the tram lines from Wynyard.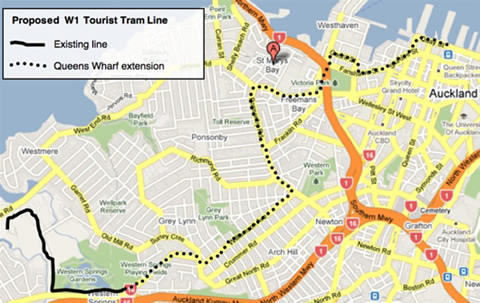 As Geoff puts it:
Wynyard Wharf needs to be connected to the Viaduct and Queens wharf as a matter of course, but it still needs to go somewhere people actively want to go, like tourist attractions and parks. And shops.

Luckily we have a string of such destinations close to Wynyard, some of them already connected by tram. Victoria Park, Three Lamps, Ponsonby Road, Western Park, Grey Lynn Park, Grey Lynn shops, Springs Stadium and MOTAT where the existing tram line whisks us to Western Springs Park, the Zoo and MOTAT 2.

We don't even have to create a new line, it's merely an extension of a current one.
Auckland City councillors voted to support the initiative and have referred it to the new Supercity for consideration.  About as good a recommendation as you can get really.  When the CBT pitched the idea a year ago the plan for the Te Wero bridge was undecided.  Now apparently the foundations will be made "future proofed" to support light rail, which is promising. No guarantee that the Te Wero bridge deck will be anything other than pedestrian and cycling at this stage though.
There's quite a discussion about it at our forum here.