The Campaign for Better Transport will be hosting a public meeting in Hamilton:
Monday 22nd August, 7:30 pm.
Methodist Centre, 60 London St, Hamilton
Come along and hear what local MPs and political parties have to say about passenger rail and public transport in Hamilton.
MPs and candidates from all the major political parties will be speaking. For more information contact
As AKT reports, yesterday the rail service moved a step closer with more than 40 people, including rail party members, councillors and members of parliament, departed Frankton Railway Station on a Silver Fern train.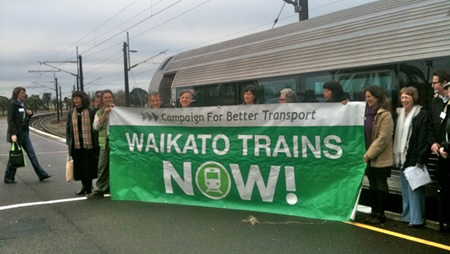 The train terminated at The Strand railway station in Parnell, which has been under consideration as a possible end point for the service.The rail working party was established last September following strong public interest for a passenger rail service.
As part of its investigations into the feasibility of a service, the working party has been exploring detailed timetabling options, infrastructure requirements, and costings prior to making a decision on a preferred option.